Archive for Featured
Bellator officially announced today that Andy Uhrich will be a part of "Fight Master: Bellator MMA" which will begin airing June 19th on Spike TV. The show will feature 31 other fighters at 170 pounds with the winner getting $100,000 and a spot in the next Bellator welterweight tournament. The show will feature Randy Couture, Joe Warren, Frank Shamrock, and Greg Jackson as coaches.
Uhrich made his Bellator debut last August at Bellator 73. The Team Pincer welterweight defeated previously undefeated Joe Williams who is also on the Fight Master reality show by unanimous decision. At 8-3 Uhrich has made a name for himself in the Southeast with wins on Strikeforce and Bellator.
The question isn't will Zach Underwood be ready for XFC 23. The question is will Louisville be ready for him on April 19th? Underwood will be taking on Deivison Ribeiro in Louisville, KY live on AXStv in the feature bout of the evening.
Coming off the biggest win of his career at Bellator 73 against Chris Coggins Underwood will be meeting one of the most dangerous grapplers out of American Top Team. With 23 victories in his professional career Ribeiro will definitely bring a lot of experience into the bout in the XFC cage. Having won three out of his last four, but losing in his last outing "The Deivison Dragon" will be looking to get back to his winning ways.
The fight will be Underwood's first time to fight on television and with millions watching around the world XFC 23 could be the night he puts other featherweights on notice. With wins for Strikeforce and Bellator Underwood has quietly established himself as one of the top 145ers in the Southeast but injuries have crept up at inopportune times to keep him just below the UFC's radar. Now fully healthy and with a training camp in place with other top fighters such as his brother Jake Underwood and Andy Urich 'Thunderwood' will look to show the world he is a legitimate contender at featherweight.
MMA Monster Factory heavyweight blue chip prospect Scott Barrett came out on top Saturday night over Johnathan Ivey in Nashville at the big UCC event. Ivey came out with all guns blazing and stood toe to toe with the XFC and Bellator veteran until Barrett worked him into the cage and dropped him with a big knee. Barrett quickly jumped on him and worked his ground and pound until the ref stopped the fight.
"Ivey is tough man," explained Barrett. "He came out and brought it to me. I was hitting him with all I had and he was laughing at me. I have a lot of respect for him and he definitely put on a show for the fans. His entrance was phenomenal. I'm glad the fight is behind me because I consider Johnathan a friend and I am glad both of us walked out the cage healthy. Now it's over and and I hope to fight again in early 2013 to keep the momentum going."
With the win Barrett improves to 14-3 with the victory. 'The Bear' is now 4-1 in his last five fights with three of those fights ending via TKO in the first round.
MMA Monster Factory's resident heavyweight Scott Barrett will return to action in Nashville on Nov. 17th against Middle Tennesse native and MMA legend Johnathan Ivey. The two will meet in the co-main event on the big UCC show at the Tennessee State Fairgrounds.
Barrett is coming off a big win at XFC 18 earlier this year when he defeated Gabriel Salinas-Jones on AXStv. With the win 'The Bear' improved to 13-3 and will look to keep the momentum going against Ivey.
"I have a lot of respect for Ivey," explained Barrett. "I've hung out with him in the past and we have a lot of mutual friends. He has been around a long time and I know he's going to look to take my leg home with him. I can't go in there and take him lightly. It's going to be a fun fight and when it's over I'm going to shake his hand and buy him a beer."
For ticket info check out www.UCCMMA.tv
After an impressive TKO win over Jeremy Myers last month Kentucky's top bantamweight, BJ Ferguson (8-2) will head up north to Canada to challenge Wreck MMA's Bantamweight champ Randy Turner for his title. With two straight finishes after his appearance on The Ultimate Fighter last year Ferguson will look for his third straight in Turner's backyard.
If you would like to sponsor BJ for the fight please email allen@mmamonsterfactory.com for sponsorship packages.
The #1 ranked featherweight in TN Zach Underwood returns to action at Bellator 73 on Aug. 24th in Tunica, MS live on Spike.com against Chris Coggins. 'Thunderwood' is coming of an impressive first round TKO win over Jimmy Van Horn in May and will look to pick up another win over a very tough opponent.
The bout will air live on Spike.com but could also air on MTV2 later in the evening should the main card go quickly.
Underwood is a Strikeforce veteran who recently signed a multi-fight deal with Bellator beginning at Bellator 73
MMA Monster Factory's heavyweight standout Scott Barrett came out on top at XFC 18 last weekend in Nashville against Gabriel Salinas Jones in the co-main event of the evening. Barrett displayed superior wrestling and used his size and dirty boxing en route to the split decision win in Music City.
Barrett has now won three out of his last four and has rebounded nicely from a broken hand in his last outing against Carmello Marrero last October. 'Bear' will likely fight again later this year for the XFC live on HDNet.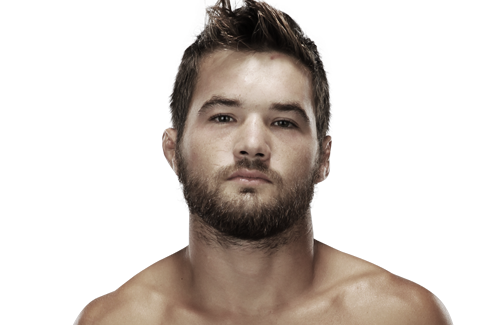 Josh Ferguson will make his debut at 125 at UFC on Fuel 4 against veteran Chris Cariaso on July 11th in San Jose. 'Taz' was a standout on TUF 14 and made waves by knocking his first opponent out in 14 seconds. After a disappointing loss at the TUF Finale last December Ferguson was informed he would be kept on the roster at flyweight with the new division being added.
Josh's fight will be shown live on Facebook.
Former WWE Tough Enough standout Jeremiah Riggs will be back in the cage at Bellator 70 on May 25th in New Orleans when he meets 3-1 Kevin Tiller. The charismatic fighter/reality star is looking to rebound from a tough loss to Trey Houston in March at Bellator 61 after a 14 month absence from MMA. Riggs has won five out of his 6 previous fights and has spent his training camp in Oregon training with UFC welterweight Mike Pierce.
The fight will broadcast live on Spike.com.
MMA Monster Factory is proud to announce that Jeremiah Riggs will return to the cage at Bellator 61 in Bossier City, Louisiana at the Horseshoe Riverdome. Riggs will face Trey Houston. Houston is 9-0 and a very dangerous opponent. The two men have similar styles and should make for an exciting fight.
Riggs has won his last five fights and last competed at SportFight X 'Middle Tennessee Mayhem' last January when he defeated Eric Slocum. "Big Rig" has competed for Bellator before. He defeated Mike Fleniken at Bellator 30 in his first appearance with the promotion in September 2010.